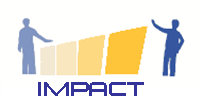 IMPACT is a research and development project that analyses web-supported learning and teaching in connection with the validation of learning outcomes.
It aims at understanding how educational professionals use web-based learning environments and Open Educational Resources (OER) as well as approaches and instruments for validation of learning outcomes in their practice.
The project aims at creating a holistic learning and validation environment and interfaces between existing web-based learning and validation instruments.
This system shall be developed based on the feed-back and the requirements from practice – therfore we highly appreaciate your input and expertise.
You may participate and support us on different levels: